My worst time on a bike – a metaphor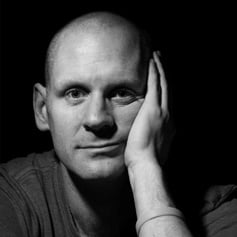 It's the 29th of July, just before 9am.
It's a Sunday.
The wind behind me is about 20mph and I'm travelling about 23mph on my bike, on my own, travelling up a bypass outside Nottingham heading North West.
Four cyclists pass me on the outside in a mini peloton. Two with orange numbers on their backs and two with grey numbers on their backs.
They looked like athletes.
They're not allowed to ride like that, that close together, but that's what happens at the front; they bend the rules and cheat, it goes unpunished and they go unseen. I dropped back to sixth place.
That's where it started, that's where one of the best times ever on the bike became the worst.
For the next 3 hours and 20 minutes I struggled to punish myself in, sometimes, 40mph head winds and rain, to stay ahead of the pack, to hit the targets I had set, to provide a good performance for my team mates.
By the time I was an hour from the finish I never wanted to do this again, it was too hard, I was broken and I still had an hour to go.
Round and round and round my legs went… every pedal stroke felt like an hour.
Constantly asking myself why I was here, why I ever thought this was a good idea and explaining to myself how, as soon as I got off the bike, I would tell Alison that I would never do this again.
The funny thing is, the 20 minutes before those guys took over from me was one of the best experiences of my biking life.
Rewind three weeks before the Outlaw Triathlon and there was a message on the Facebook page asking if any of the relay teams wanted a swimmer. We had a swimmer but it was Simon, my coach and friend, who was already doing the whole thing and just agreed to wear our timing chip on his leg which is bending the rules a little bit. So, we agreed to speak to the guy who wanted to swim who was coming up from Wales to watch his Dad do the whole event and it turned out that Andy (our swimmer) was a National Open Water Champion!
Fast forward to 6:44am on the 29thJuly and Andy exits the water from the Outlaw Triathlon swim with a new course record and hands the timing chip to me. I run to my bike, put on my helmet and set off as the leader in the Outlaw at my tenth attempt at an Outlaw event.
People like me don't lead the Outlaw, people whose nickname at University was 'fat arse', people who were nearly 18 stone when they met their wife.
This stuff doesn't happen.
I thought I might get five minutes in the lead, half way up the lake, past the first photographer so that I would always have a photograph of 'when I led the Outlaw'
I stayed there for 90 minutes.
I led the Outlaw for 40 miles, with the lead motorbike in front of me the whole time, passing through towns and villages and feed stations and groups of spectators who pointed and said "that's the leader"
They announced me as the first bike through the first feed station back at transition at the lake 40 minutes later, while people were still getting out of the water.
I wanted 5 minutes… I got 90.
Around about 40 miles Tom passed me, he was an ignorant b&*tard who didn't even want to speak so by the time I was passed by the four cheating bikes (two relays and two individuals) I was still second, first in the relays, and was catapulted back to sixth.
It wasn't losing the lead that made it a bad bike ride in the second half and it wasn't those four guys that passed me.
It just wasn't my time in the second half, it was my time in the first half.
I didn't go hard in the first half, I stuck to my plan and accepted the fact that guys who were better than me would pass me at some point, I just didn't have the legs in the second half and whatever I think, that's just how it goes.
As always, I can look back, infinitely dissect the data and try to be better the next time I do something like this.
I can remember how hard it was in the second half and how I told myself I'd never do it again and I can tell that guy to shut up because the joy of the first 90 minutes and of hanging my tenth Outlaw medal on the rack in my office is well worth the pain and discomfort for that 3 hours and 20 minutes.
Golfers talk about preparation and opportunity; most professional golfers never ever get a shot at the big time but they try to prepare in case they do.
It's very unlikely that I'll ever lead the Outlaw again but when it happened I was prepared, prepared enough to stay out for 90 minutes, to say thanks to every single marshal and spectator that I passed and to write about it.
Blog Post Number: 1748