Two chance meetings (imagined)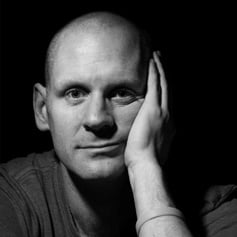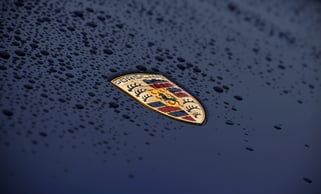 So, I met him on a Thursday night about 8.20pm.
At least in my imagination I did.
My mind was wondering because I'd just finished coaching a football session for my son's team, even though he wasn't there because he was playing for another team!
The boys at the session had left all their kit scattered around a field on the south side of Nottingham and it was getting dark in the autumn dusk and there was no one else but me to tidy up and carry the bags to the car.
My mind was wondering and considering and imagining.
And so (at least in my minds eye) there he was.
In an almost new Porsche 911 GTS convertible (blue).
As I passed, laden with bags and kit and with a top on with my initials across my chest as a boys football coach and with a potbelly hanging a little bit too far over my shorts and a general sense of exhaustion; at the end of a really busy day and then an hour trying to control 13 year old boys who were just not fussed about being controlled, he stepped out of his car and we caught each others eye.
He looks a lot like me.
Thinner, more wiry and much, much fitter.
He's married, but he doesn't have any children.
He's dazzling with success in whatever route it was that he took and his hair is short and going bald like mine but there's much less grey.
He's smartly dressed like one of those guys that you know does a lot of outdoor sport and knows what to wear and is quite happy to spend the money on himself to wear that stuff.
He smelt nice too.
He had the air of someone who gets enough sleep and knows exactly where he's going and exactly what he's doing tomorrow.
It's in the eyes though, that's where it's different.
He has less lines, less crow's feet from more sleep and less stress and less time pressure.
Those are eyes though that have laughed less and cried less and shouted less and seen less torture and much less joy.
Somewhere further down the street is another guy, a little bit further out of sight.
He also looks a lot like me but is 50% heavier.
His face is tired and his hair is greyer and his skin is more oily.
That's the guy that never left Scotland. That's the guy that stayed where he was and took the 'easy' passage and went to medical school and became a head and neck surgeon and married the toxic relationship partner and stayed in the place that was rife with religious bigotry which held back his career prospects and got divorced and smokes in secret and drinks too much and is careering towards a really early death but refuses to accept it.
We are, all of us, better than the worst things we've ever done and the worst choice we've ever made but there is also another person that we could have been if some of our choices had been better or more considered or more selfish.
There is a trade-off though, because through the journey comes the joy.
As I acknowledged the Porsche driver (and only in my crazy imagination) I was contented that I hadn't taken his path.
No regrets, I would not trade all the things that I have seen from that day to this for eyes with less creases.
Blog Post Number - 2853