The ghost of triathlon past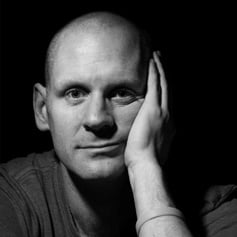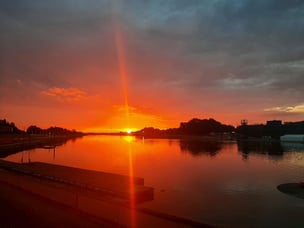 This blog wasn't supposed to work out like this, but it changed a little bit through the course of yesterday.
It started with me sat on the side of the lake at Holme Pierrepoint water sports centre in Nottingham yesterday morning just after 4.30am.
The sun was starting to come up and would develop into this glorious vision of the sky being on fire like a war was going on in the east somewhere past Newark.
I was sitting staring at the finish line of the Outlaw half triathlon, a race which I've competed in as an individual or as a relay more times than I care to remember over the past 10 years.
I wasn't racing yesterday. Louis was racing.
This blog was supposed to be about how sad I was that I couldn't race and that I was surrounded by fit and healthy triathletes whose knees work and who's endocrine glands worked and who looked young a vibrant and healthy and just generally better than me in every single way.
It was supposed to be about me and then I realised it wasn't.
I was around the race for about 12 hours from 4.30 in the morning until about the same time in the afternoon and then some time a little bit later on Louis's Mum sent me a WhatsApp with a link to a blog that I wrote in May 2017 and you should try and read this here before you carry on.
In case you didn't though that blog was about the story of Louis running the last 2 miles of the triathlon as part of our relay team in 2017 less than a year after his dad passed away whilst they were riding their bikes together in Mallorca.
The photograph attached to this blog is at the end of that race.
My friend Mike and I had worked a system out where Louis would be able to run after Simon had swam and I had ridden the bike and Mike would run the half marathon.
Mike ran a very respectable 1.36 that day and Louis ran the last 2 miles.
And so, in the midst of my sadness at the finish line yesterday morning whilst I was feeling sorry for myself and being lost in my own crazy little world of selfishness, I almost forgot why I was there.
This was the race that Tim, Louis's dad, had raced in 2016 and Callum and I had watched from the side-lines as I was training for the Barcelona ironman before my dodgy knee got found out.
I have a photo of Tim crossing the line that day and I met Louis and his mum at the finish line.
Fast forward 7 years on and Louis is racing and that's why I'm sat at the finish line.
This is not a blog about how sad and broken I felt. This is a blog about how proud and inspired I feel having watched what Louis did yesterday.
Louis tried to do this last year and it all just seemed a bit much. He was 18 and had big boots to fill and when he pulled up on the run due to a very uncharacteristic injury, nobody blamed him.
Louis went on in September to become the British and Scottish under20's middle distance triathlon champion when there were less people watching and very few people paying attention, but he returned back yesterday to put that ghost to bed.
And how he did.
It's worth explaining that it's nearly impossible to become a middle-distance triathlete of any quality when you're 19 because middle distance triathlon (half ironman, 1.2 mile swim, 56 mile bike and 13.1 mile run) is an endurance race and to race at endurance you have to train at endurance.
It takes years of depth of fitness to come anywhere close to competing and so very few people can manage it before their mid 20's.
In September when Louis raced in the British Championships at Aberfeldy in Scotland, he was destroyed at the finish line, not able to stand, a mess but still a winner by about 2.5 miles.
Yesterday he was majestic.
He had a plan, he executed his plan, and he won by 4 miles from his nearest competitor.
That's a difference of almost 30 minutes to the nearest challenger and he still had room to sprint the last 100 metres to the finish line.
Louis goes on in September to race in the European championships in Spain after 5 days in the Pyrenees and a full ironman for his first attempt in July.
It started in 2017 with 2 miles at the end of a race, 10 months after he lost his Dad (and best friend).
That day, as part of a relay, my friend, Mike, ran a very respectable 1hr 36-minute half marathon after Simon had swam and I had biked.
Yesterday after Louis swam and Louis biked, he ran a 1hr 26 minute.
Great things take years to build.
This had taken years for Louis and this is great.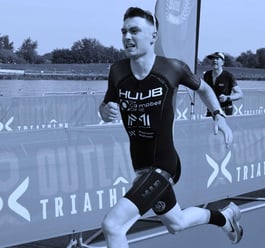 Blog Post Number - 3082