One man walking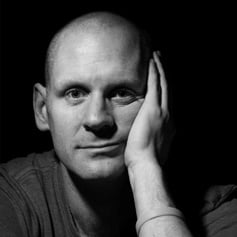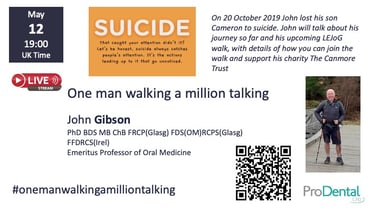 In 2019 my friend and teacher and mentor and helper in times of extreme difficulty, Professor John Gibson, lost his son Cameron when he took his own life suddenly and unexpectedly.
You can see me talk about this on our YouTube here if you'd rather watch it than read it.
I received a text from one of my friends in Glasgow followed by a telephone call as the news spread like a virus of what had happened to the Gibson's and what would have huge and long repercussions as few of us could even begin to imagine.
John and Isobel and their family had no warning and could make no sense of what had happened. No reason, no cause, totally out of the blue like a bolt of lightning.
Perhaps for a minute it might be worthwhile trying to put yourself in their shoes and imagine what it would feel like if that had happened to one of your family members, someone so close.
I have a memory of travelling to John Gibson's house in 1994 or 1995 with my friend Morag as we were going somewhere with John in his car and he had to pop into his house.
I remember seeing children's toys on his living room floor, a wooden train, I wonder if that was Cameron's.
Only weeks before Cameron's tragedy John had spoken on at master class at The Campbell Academy on facial pain and local anaesthetic but during that talk, he discussed how facial pain can drive people to take their own life and how the circumstances of people in that situation was something we should look out for and try to help with in dental practice.
All of those thoughts and processes are now in sharp focus and John and Isobel have launched The Canmore Trust.
To begin with John and Isobel have decided to walk from Land's End to John O'Groats to launch The Canmore Trust (which has gained enormous traction in the world of charitable status since it was even talked about only a few months ago).
They're also having a dental wellbeing day in Glasgow on the 4th of November and more details about that will be released later.
I and we will talk about The Canmore Trust more and more as it develops, first and foremost though there is a webinar hosted by Rob Dyas and the guys at Pro Dental where John will explain the terrible circumstances in which the charity has been born and what they are planning to do about it.
The details for the webinar are here and I would ask and encourage everyone to try and turn up. So far they are up to 500 people already registered.
Perhaps it's that you've never been touched by mental health issues.
Perhaps you've never known anyone who has.
Perhaps you do something massive in this world already.
Perhaps all of us though should just take a minute to think about how we can help.
Sadly, issues such as this faced by the Gibson family are only likely to get worse before they get better.
I think we're all responsible for doing a little bit to help and I hope we can here.
Blog Post Number - 3075