False finish lines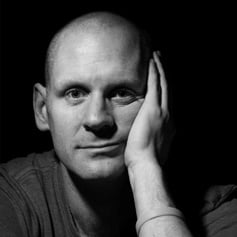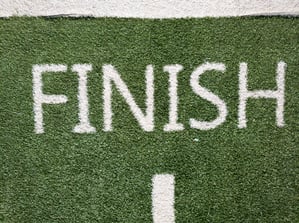 I've never been good at finishing things, the joy for me is always in the concept, the idea, the vision and the start and my enthusiasm wanes as the project unfolds in front of me.
I always spent the time leading up to triathlon events planning the next triathlon event after this one, before I'd even finished the one that I was supposed to be working on.
I love the 10 day taper before a big event because it allows me to plan for next year.
Somewhat ridiculous but more and worse than that, somewhat toxic.
I am comforted by the fact that this is a personality type and it has it's purposes and uses but I'm also starkly aware of the fact that it's something which left alone and unchecked becomes destructive and divisive and selfish.
When I was young my dad used to ask me to cut the grass at the back of the house, at my parents house in the west coast of Scotland.
It was a steep garden and I remember getting hell for the fact that the job that I had done was terrible because I started with much enthusiasm and lost my way half way through, trying to finish as quickly as possible to get to the next thing.
I see the same trait in my son now and although on the face of it; it seems to have served me well but there's definitely a balance that exists with finishing the job and keeping your promise.
The flip side of this is the completer/finisher, that is someone who craves a partner to get things started (perhaps someone like me) but then takes the task along and finishes every single time.
The completer/finisher never starts a book they don't finish (I never finish a book that I don't like).
The completer/finisher cannot leave work when they are busy. I leave work behind and promise myself that I'll pick it up the following day.
As my life has become more complex (than just looking after myself) it has become more and more apparent that to develop the skills of finishing but more importantly to not start new things until the key things are well underway or close to being completed, is one of the further and future developments of my life.
It seems weird that a few months off 50 I look at trying to alter personality traits and characteristics that have taken me so far but I guess that's probably what people used to call wisdom and self awareness. I resolve to try to be a bit better than I am now, moving forwards, and a large part of that will be to finish more of the things that I started.
Blog Post Number - 2758