Customer facing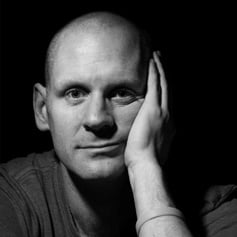 So, we're now at the stage where we can order a car online without speaking to anyone and get it delivered without having to talk to anyone, and just transfer the money electronically.
That changes buying things dramatically doesn't it?
Of course, we've been doing this at a very low level with Amazon purchases, online food shops, but is there a market still, for something else?
Something more personal and something more emotionally interacting.
I get my supermarket shopping delivered by Ocado, I don't know what they do, but every single person that delivers my shopping are lovely, and wonderful and the customer service is brilliant.
I'm never switching to anybody else, as long as they retain that, it doesn't matter that it's a bit more expensive, I'm happy to pay for that.
I do my local shopping from my local supermarket around the corner, which is a small Co-op.
The service there is extraordinary. I live equal distance between a co-op and a Tesco, therefore I can go to either, the Tesco is appalling, everybody is unhappy, it's awful and terrible, Co-op is wonderful, it's Co-op every time.
Within a range, people will always choose better service, for slightly more inconvenience (I believe this to be true) within a market there is a position for amazing service at the top level, which is a percentage of the population are happy to pay for.
The trick is to pick where you want to perform and then to live or die by that, if you're trying to be the cheapest in time, and they don't offer service, these people will expect a higher level of service for a lower cost and then you will be killed.
If you promised the service, you better deliver it, because people understand that, that's what their paying for.
I'm designing the new website for the practice at the present time, been offered the opportunity to use a bot to answer questions on the homepage.
Stop, this is a difficult circle to square in my mind, because what I want to offer the people who come to our practice, is customer facing, as exceptional customer facing, customer service.
To do that though, I have to get people into the practice to meet us, (and generally, not always,) but generally, when they come in, they do like us, and they do like it here.
Using a computerised text, question and answer service on the front page of my website, suggests to people when they first arrive that everything has been automated and that every individual doesn't matter.
I'm forward thinking enough, to understand that interaction with Alexa and Siri are only the beginning of how we will interface with the machines, who will ultimately control everything we do (if they don't already) but somewhere there will still be the space for a little oasis, a personal care in face to face customer service.
Blog Post Number - 2025