The Pathway to Success is Mastery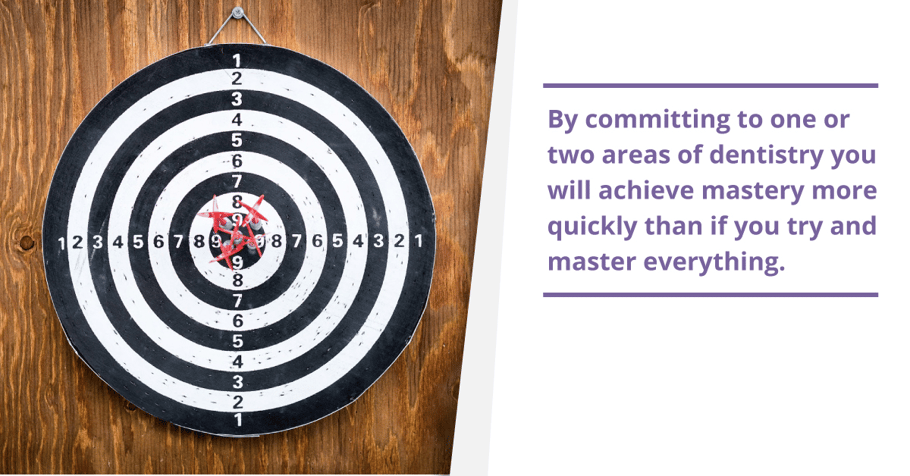 Why is it important to master a certain skill?
There is no doubt that mastery requires significant investment in time, effort and practice. If the research is to be believed, then this amounts to 10,000 hours of PURPOSEFUL practice. What this means is practice of the specific skill you are trying to master in real world situations.
Take golf for example. Many casual players can pick up their clubs and enjoy a round with friends. But without further instruction and purposeful practise, there is little chance of breaking 100 shots for a round.
Dentistry is no different. It has now been around 10 years since I did a root canal treatment. I still know the principles but cannot expect to find the canals easily, prepare to the correct length and taper and then obturate successfully without practising these techniques again.
Our philosophy at the Campbell Academy is to help our delegates towards placing 50 implants per year. This will mean that you can experience the full range of treatments, placement situations and more importantly, the complications that arise. If you do not work at this level then there is no chance of becoming proficient in the skills that implant dentistry involves.
Furthermore, by committing to one or two areas of dentistry you will achieve mastery more quickly than if you try and master everything. This will then allow you to differentiate yourself from other dentists who perhaps 'dabble' with implants.
Should I specialise?
Specialisation doesn't necessarily mean heading back to university to study an individual subject and getting on a specialist list. It can simply mean doing the treatments you want to do. This is obviously difficult to do in an NHS setting, but in private practice there is no reason you can't narrow down your focus to the areas of dentistry that you enjoy or are most proficient at.
There is no doubt that if you enjoy what you do you will be better at it.
How do I get ahead in my dental career?
In short, make it a passion.
Be passionate about what you do. Aim to become the best you can be at what you do. Without this drive you will sit in the swamp of mediocrity that is the average general dentist.
Whatever your interests, start reading around, get to know who the best teachers are, find a mentor that can help you with your goals.
With dental implants, the starting point is restorative planning. Start to consider implants as an option to replace missing teeth. Consider where you think the implant needs to go to give the best result. Discuss this with your patients.
Then we need to think about basic oral surgery. Get ahead by becoming proficient at surgical procedures such as root removal and re learn how to suture. Review your head and neck anatomy and start to think about the structures that may be relevant.
Expand your knowledge and begin the road to mastery today.
Click below to download the 3 secrets to a successful dental career.