During the pandemic of 2020, the team at The Campbell Academy decided to put together a new digital education offering which would be an entirely online-based offering not dissimilar to Seth Godin's 'Bootstrapper's Workshop'.
For years we have run a year-long business course where delegates attend six two-day modules, face-to-face and give them the tools to write a detailed and all-encompassing plan for their business for years to come. This is an ideal way to educate and influence but is not feasible for many people and in the light of where we find ourselves now, it will be tricky for the rest of the year.
Our new 6-week Business course is an online, self-directed teaching package based on Seth Godin's 'Bootstrapper's Workshop' which Colin participated in during lockdown.
This is an inexpensive course that relies on the motivation and self-direction of the people who attend to apply themselves for six weeks. An overview of the 6 weeks can be found below but in summary, the majority of the course is completed through self-directed learning from your own home on our digital platforms where we will release weekly projects for you to complete. There will be access to members of The Academy team to support you through each project where necessary in addition to an introductory and closing live webinar with Colin.
Moreover, there will be access to a course Slack channel throughout the entirety of the course providing attendees with a platform for discussing the projects themselves in addition to the sharing of additional knowledge and day-to-day experiences.
The course will provide the tools to write your dental business plan for the new world to take you through 2022 and into 2023 with a framework of technical information and hope.
Objectives:
Following completion of this course participants will have an improved understanding of the following:
The vision of their business – what it is actually for.
How to develop new financial structures for their business to be more financially effective, efficient, and profitable.
How to explore new marketing initiatives in their business, within their existing budget framework to improve new patient flow to the practice.
How to structure Human Asset management (HAM) within a small healthcare business throughout a year to improve team engagement, performance, and loyalty.
How to begin to organize a proper sales funnel within a Practice to ensure that only the minimum amount of contacts who would like to come to engage for treatment and care are lost.
How to plan strategically over a year (or three years) to see constant improvement of a business.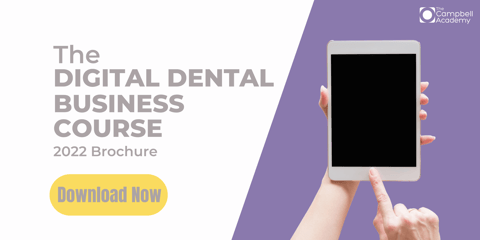 Dates:
The course is spread across a 6 week period and is bookended by an introductory week and a final week designed for finishing off any final parts of your projects. In between, there are 4 weeks where you will be required to complete 2 projects a week to be submitted each Thursday and Sunday.
The course has been designed to be extremely flexible for attendees enabling delegates to work this around their clinical time. The majority of the work can therefore be completed at a time that suits the delegate. A summary of the few key dates can be found below.
Week 1: Introductory Week
Monday 21st February 2022: Official start of the course and introductory projects set.
Friday 25th February 2022: Live Course Introduction Zoom Conference Call with Colin Campbell.
Week 2: The 'Why' Project and Finance
Thursday 3rd March 2022: Submission of the 'Why' Project.
Sunday 6th March 2022: Submission of Finance Project.
Week 3: Marketing and HR
Thursday 10th March 2022: Submission of Marketing Project.
Sunday 13th March 2022: Submission of HR Project.
Week 4: Sales and Leadership
Thursday 17th March 2021: Submission of Sales Project.
Sunday 20th March 2021: Submission of Leadership Project.
Week 5: Strategy and The Business Plan
Thursday 24th March 2022: Submission of Strategy Project.
Sunday 27th March 2022: Submission of Business Plan Project.
Week 6: Course Wrap Up
Friday 1st April 2022: Commencement Speech with Colin Campbell.
Sunday 3rd April 2022: Official close of course