Following on from the success of the Digital Dental Business Course and our Online Implant Restorative Course, The Campbell Academy is proud to announce the launch of our 6-week Online CBCT Course.
This 6-week course has been designed to provide practitioners with an overview of the fundamentals of CBCT covering the training requirements of Level 1 & 2 CBCT.
An overview of the 6 weeks can be found below but, in summary, the course is completed through self-directed learning from your own home on our digital platforms where we will release weekly video lectures and projects for attendees to complete. There will be access to members of the course faculty for each of the modules to assist you through the learning content and projects where necessary in addition to an introductory and closing live webinar to open and close the course. Moreover, there will be access to a course messaging platform throughout the entirety of the course providing attendees with a platform for discussing the projects themselves in addition to the sharing of additional knowledge and day-to-day experiences.
More information can be found below or through the course brochure which can be downloaded from the top or bottom of this page.
The course is limited to 20 places so please get in touch for more information or to reserve your space.
Objectives:
The learning objectives of the course are as follows:
To learn the fundamentals of Cone Beam Computerised Tomography
To learn the fundamental science relating to CBCT
To consider the anatomy and pathology of the dental jaws
To begin to understand the application of CBCT in implant planning
To gain a basic understanding of digital implant planning and guided surgery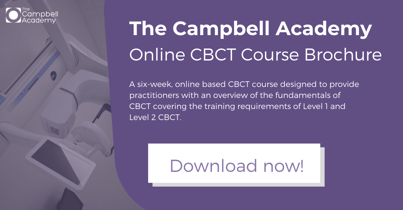 Dates:
The course is structured across a 6 week period and begins in week 1 with an introductory Zoom call to open the course. This is then followed by 4 weeks of video content and projects which are designed to complement the theoretical-based learning. Finally, in week 6 there will be a closing Zoom session and the chance for attendees to catch up on any content or projects they may have fallen behind on.
The two live Zoom sessions will take place on Monday 1st November and Thursday 9th December from 19:00 to 19:45.
Week 1: Week Beginning 1st November 2021
Module 1: Introductory Week and Onboarding
Tutor: Andrew Legg
Aim: To get all delegates registered to the online academy and Slack and to introduce themselves.
Monday 1st November: Live Zoom session at 7:00pm to open the course.
Week 2: Week Beginning 8th November 2021
Module 2: Fundamentals of Radiography in Relation to CBCT
Tutor: Michael Bornstein and James Smith
Aim: To learn the fundamental science of Cone Beam Computerised Tomography.
Week 3: Week Beginning 15th November 2021
Module 3: CBCT of The Mandible
Tutor: Beatriz Sanchez
Aim: To explore CBCT of the mandible and surrounding structures in relation to implant dentistry.
Week 4: Week Beginning 22nd November 2021
Module 4: CBCT of The Maxilla
Tutor: Colin Campbell
Aim: To explore CBCT of the maxilla and surrounding structures in relation to implant dentistry.
Week 5: Week Beginning 29th November 2021
Module 5: Digital Implant Planning
Tutor: Andrew Legg

Aim: Introduction to Digital Implant Planning.
Week 6: Week Beginning 6th December 2021
Module 6: Catch up and Wrap Up Zoom Call
Delegates will have a chance to ask the tutors questions about the course and plug any gaps in their knowledge.
Thursday 9th December: Live Zoom session at 7:00pm to close the course.